project70701 Santa Fe Computer Works
---
URBAN / RETAIL

PROJECT: Santa Fe Computer Works.
LOCATION: Santa Fe, New Mexico.
CONTRACTOR: Cameron Construction
SIZE: 4 stores 1 warehouse.
The Santa Fe Computer Works and Technology Center is a multi-tenant retail development. The main concept for the building exists in the irony between layers of time. The surface of the exterior of the building has the appearance of adobe, a technique of construction from prehistory. This ancient building technique creates a dialog of irony with the high-tech nature of the interior program. The contrast of time was exaggerated by the device of anachronism in the form of an arbor modeled after dinosaur fossils. To create the arbor, algorithms were used as the organization tool proportioning the beams as organically as possible.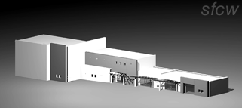 | | | | | | | | | | |
| --- | --- | --- | --- | --- | --- | --- | --- | --- | --- |
| PERSPECTIVE | CONCEPT PLAN | INTERIOR PERSPECTIVE | APPROACH STUDIES | ELEVATION | CAST OF PLAN | PERSPECTIVE | DESIGN OF ARBOR | PLAN | |